Discover the best things to do in Silom, Bangkok. Explore iconic landmarks, taste the delicious food, and experience lively nightlife. Plan your perfect trip with our top recommendations.
Things to do in Silom a comprehensive guide to top attractions and activities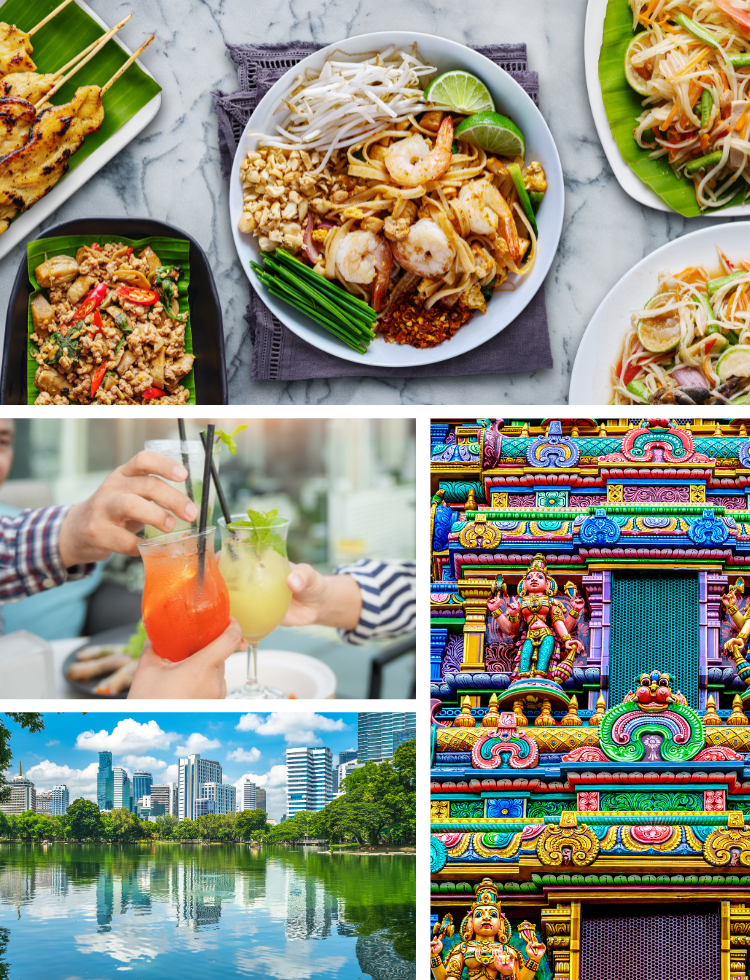 Welcome to Silom, an amazing and lively area in Bangkok! It's a perfect location for both tourists and locals who want to have fun and explore. Silom has so many fun things to do and see that everyone will find something they like. In this guide, we will show you the best places to visit and the top 5 exciting things to do in Silom. So, get ready to have a blast in Silom!
Explore iconic landmarks
Silom offers a mix of modern and historical landmarks that are sure to impress. Be amazed by the beautiful design of Wat Hua Lamphong! It's a peaceful Buddhist temple with stunning architecture that will make you feel calm and relaxed.
Wat Hua Lamphong is like a hidden treasure in the busy streets of Silom. Besides, this peaceful Buddhist temple gives you a soothing feeling and a break from the city's hustle. When you go near the temple, you'll be amazed by its beautiful architecture with colorful decorations and intricate carvings.
Next, when you are in Silom, you must visit the famous Sri Maha Mariamman Temple also know as Wat Kaek. It's an important Hindu shrine that represents the Indian community's culture in Bangkok. The temple's entrance is beautifully decorated with a tower called "gopuram," showcasing intricate sculptures and vibrant colors. It's truly a stunning sight you don't want to miss!
Furthermore, to see stunning views of Bangkok's skyline, go to the State Tower and Mahanakhon Tower. At the State Tower, you will find the famous Sky Bar on the rooftop. It's a classy place with amazing panoramic views of the city. Experience sipping on the special cocktails while watching the sunset over the Chao Phraya River and seeing the city lights twinkle at night.
Now, the Mahanakhon Tower is different but just as exciting! They have a unique "SkyWalk" with a glass-bottomed observation deck. It's a thrilling experience as you can walk on glass and look down at the city from a great height. It's something you've probably never done before, and it's definitely worth trying!
Shop 'til you drop
For shopping lovers, Silom is a paradise. Head to the bustling Patpong Night Market, where you can find unique souvenirs, fashion items, and accessories. Right in the center of Silom, the lively night market will becomes vibrant as the sun goes down. This market is famous for its energetic atmosphere, busy crowds, and a wide variety of products being sold.
Another options is Silom Complex. Silom Complex is a modern shopping mall right in the heart of Silom Road. It has many floors and offers a mix of fancy luxury brands and local shops, making it a great place for all kinds of shopping. If you love fashion, you'll find everything you need here – from famous designer labels to cool and trendy boutiques.
For those interested in gems and jewelry, the Jewelry Trade Center is a must-visit destination in Silom. This iconic building is home to numerous jewelry shops and wholesalers, offering a stunning collection of precious stones, diamonds, gold, and silver jewelry.
Taste the delicious food
Next on the list of top 5 things to do in Silom, treat yourself to the tasteful food. When you're in Silom, don't miss out on the delicious Thai food! There are many local restaurants and street food stalls where you can try amazing dishes. One of the classics is Pad Thai – a tasty stir-fried noodle dish with a perfect blend of sweet, sour, and savory flavors. Another must-try is Som Tum, a spicy green papaya salad that showcases the bold and lively tastes of Thai cuisine.
In addition, Silom's street food is a big and exciting part of the neighborhood's food culture. Walk around the lively streets and you will find many food vendors selling delicious dishes from various parts of Thailand.
The air is filled with mouthwatering scents of sizzling meat skewers, steaming noodle bowls, and freshly made desserts. It's hard to resist trying a bit of everything with such tempting choices all around you.
For a unique dining experience, Silom offers plenty of rooftop bars and restaurants that provide breathtaking views of the cityscape. While savoring gourmet food, you can enjoy panoramic scenes of Bangkok's famous landmarks like the Chao Phraya River, Wat Arun, and the dazzling city lights.
Embrace the nightlife
When night falls, Silom becomes an exciting place with its lively nightlife. You can dance to eclectic beats at popular nightclubs and music venues with DJs playing great music. If you prefer a more chill vibe, there are stylish cocktail bars and rooftop lounges where you can relax and enjoy the evening. No matter your preference, Silom promises an unforgettable and enjoyable night out for everyone.
Moreover, pay a visit to this vibrant BOHO rooftop bar for an amazing experience. On the rooftop of ibis Styles Bangkok Silom, you will find the awesome BOHO rooftop bar – considered one of the best in Bangkok. It has a bohemian-style atmosphere, inspired by lively Thai music festivals like Wonderfruit, making it the perfect spot to relax.
The bar is adorned with colorful artwork featuring characters from Thai folklore, given a modern twist. It sets a playful and fun tone for the place. The rooftop offers a fantastic view of the central business district, and it's all about having a good time up there. Also, they have a fantastic infinity pool as the centerpiece, where you can swim or just chill on comfy sofas poolside. Enjoy the signature rum-based cocktails and delicious Thai sharing platters while you soak in the fantastic ambiance.
Stay at ibis Styles Bangkok Silom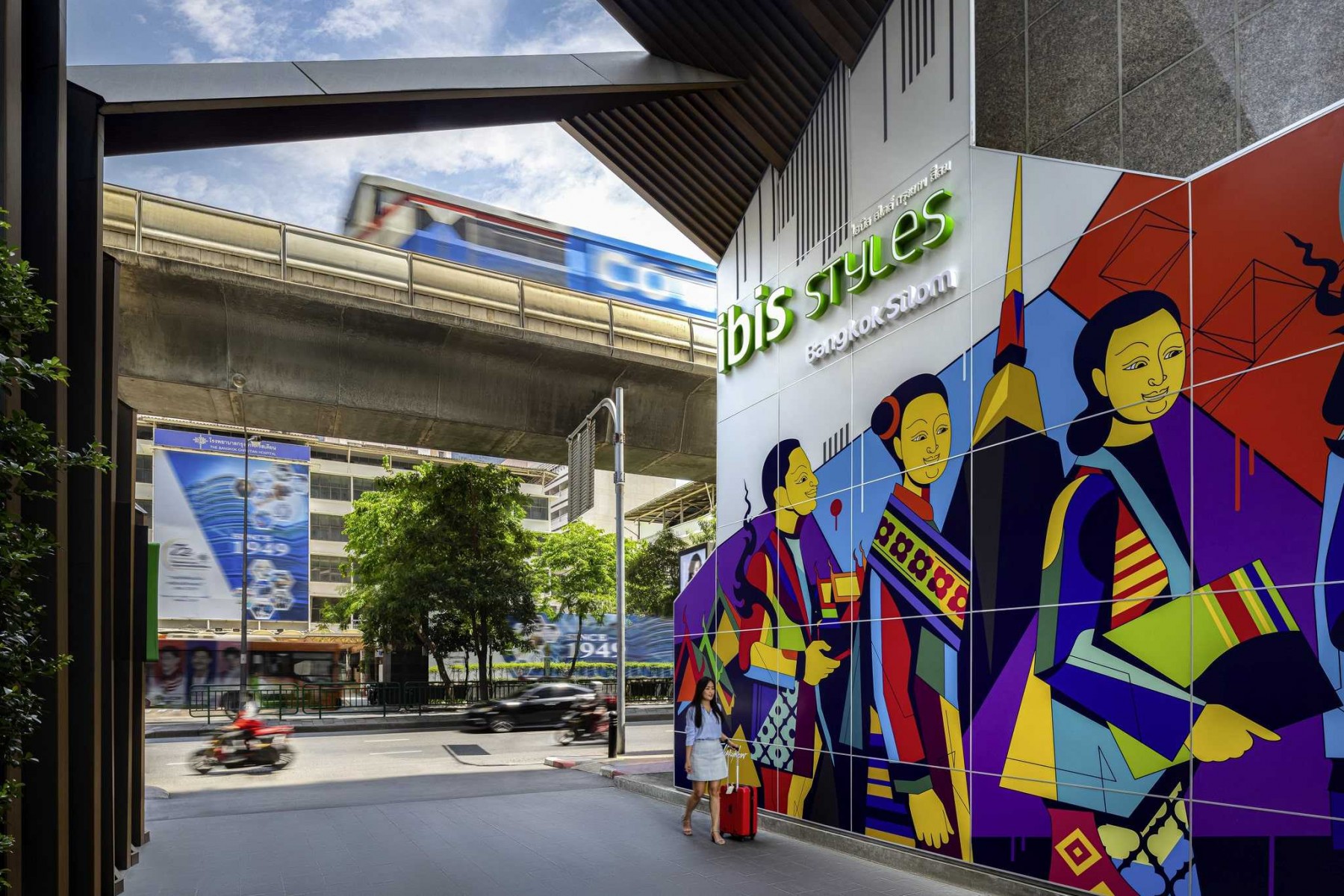 Last but not list for the top things to do in Silom list, book a stay at ibis Styles Bangkok Silom. ibis Bangkok in Silom is a unique place that will make you feel at home, but with a cool and fun twist. The hotel got groovy tunes, colorful decorations, and artwork inspired by Thai folklore. Also, the hotel combines comfort with original design, making all other hotels seem quite ordinary in comparison.
This Silom road hotel offers 264 cozy rooms with a modern urban design. Making it the perfect place to chill out during your stay in Bangkok, Thailand's legendary capital city. This budget hotel conveniently located in the heart of the city's central business district. And, just a short distance from the famous Lumpini Park. Getting around is super easy with the Sala Daeng BTS SkyTrain station and the Silom MRT station nearby.
At ibis Bangkok Silom you are covered with the coolest bohemian-themed rooftop bar in the area and a stunning infinity swimming pool. Plus, a modern fitness center, and relaxed co-working and event spaces. You willl find everything you need to feel great and stay connected. Here, you can have an amazing stay in Bangkok without even leaving the hotel!
Silom is an exciting mix of culture, fun, and chill vibes. It has famous landmarks, lots of delicious food options, and a lively nightlife. You willl never run out of things to do in Silom. Plan your visit to Silom today and embark on an adventure like no other!